Sightseeing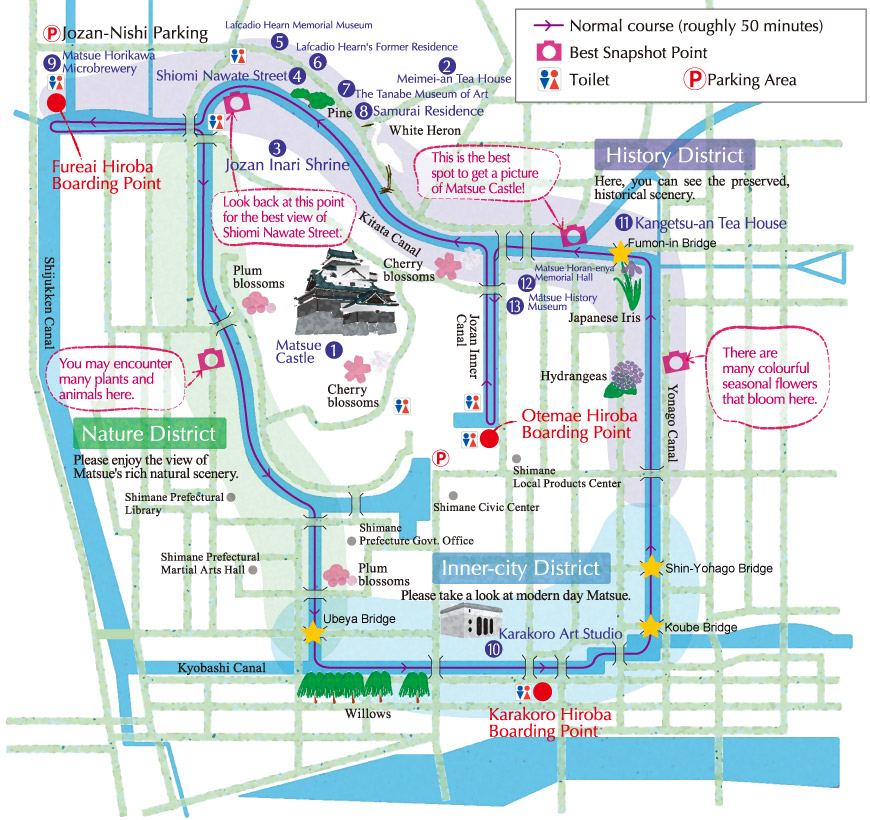 1

Matsue Castle
A National Treasure, and the only original castle remaining in the San-in region. You can see all of Matsue from the top, including Lake Shinji.

2

Meimei-an Tea House
A tea house built by Matsudaira Fumai, tea master and feudal lord of Matsue.

3

Jozan Inari Shrine
A shrine to the fox god Inari, who feudal lord Matsudaira Naomasa adhered to.

4

Shiomi Nawate Street
The preserved Edo Period street that was chosen as one of Japan's top 100 historic streets.

5

Lafcadio Hearn Memorial Museum
An exhibit of 820 items associated with writer Lafcadio Hearn, including 160 of his favorite everyday items.

6

Lafcadio Hearn's Former Residence
The house where Lafcadio Hearn lived from May to November 1891, including the garden he was very fond of.

7

The Tanabe Museum of Art
A museum of items collected by 25 generations of the Tanabe family, with a special focus on tea ceremony tools.

8

Samurai Residence
A preserved residence of an Edo Period middle-ranking samurai. This was home to the Shiomi clan that the street was named after.

9

Matsue Horikawa Microbrewery
The fragrance of local beer, a restaurant, and a local products center.

10

Karakoro Art Studio
Formerly a bank, the retro yet modern studio has a garden terrace, a gallery, handcrafts,workshops, and more.

11

Kangetsu-an Tea House
A Sansai style tea house inside of Fumon-in Temple. The temple was built to protect Matsue Castle from evil.

12

Matsue Horan-enya Memorial Hall
A museum introducing the history and elements of Horan-enya, one of the three great boat festivals of Japan.

13

Matsue History Museum
Exhibits about the history and founding of the castle and city leading up to modern day times, including models, videos, illustrations, and more. English audio guides are free.